Article
Title
Championing Climate Change Through Entrepreneurial Action: A Q&A with CLEAResult, Fourth Partner Energy, and C3.ai
By Rick Needham, Partner and Energy Sector Lead for The Rise Fund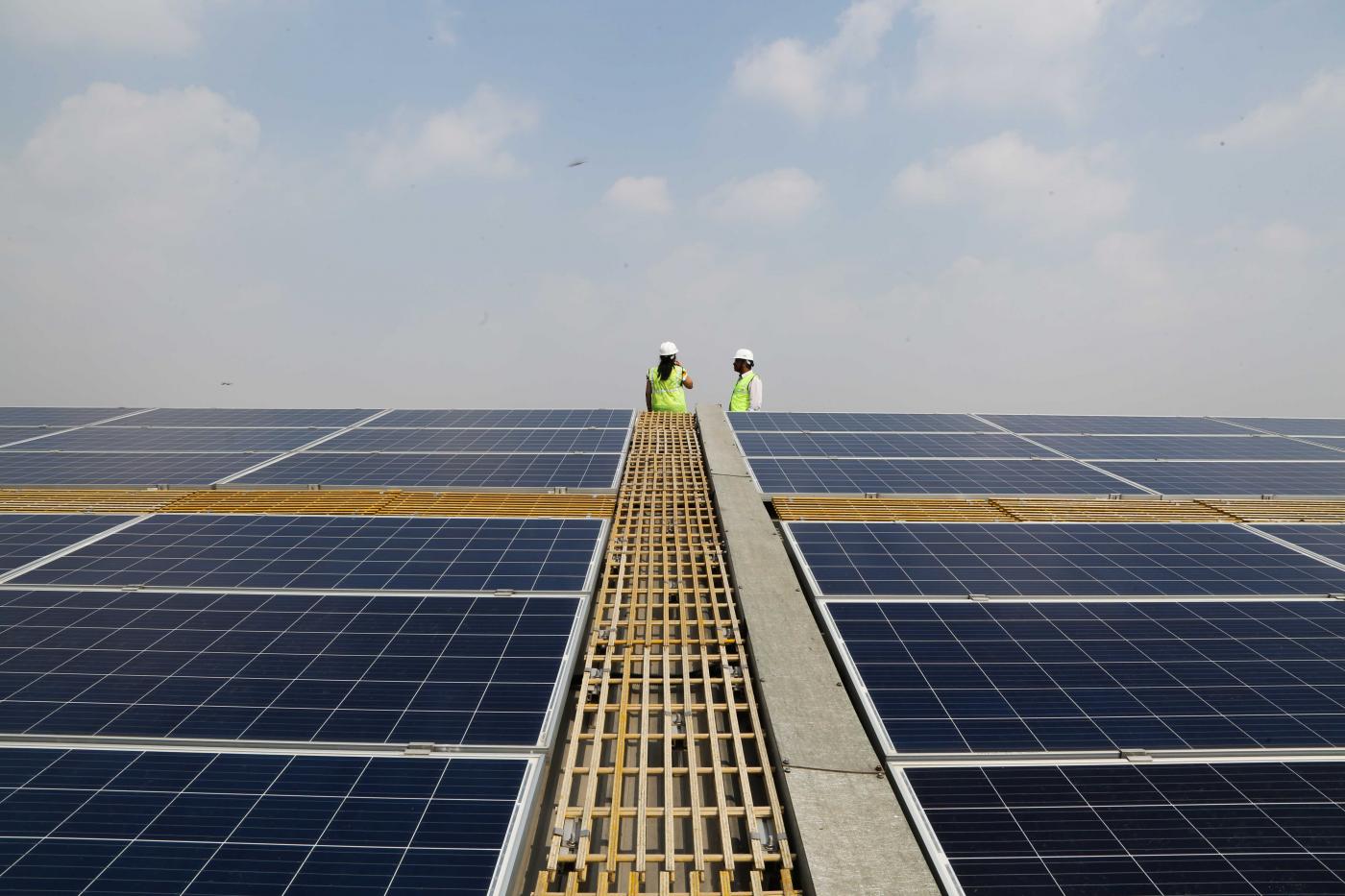 If one thing has become clear in the months since we first learned of the novel coronavirus, it is that solving global issues will take decisive, collective, and unified action across industries, geographies, political ideologies, and socio-economic statuses. 
While the COVID-19 pandemic has become a once-in-a-generation crisis seemingly overnight, we cannot lose sight of the persistent global challenges that existed long before this crisis appeared and will linger long after a treatment or vaccine is found. 
As we celebrate the 50th anniversary of Earth Day, many posit that we must choose between crises. Either we advocate for climate solutions and the protection of our planet, or we put all our resources into fighting the pandemic, but not both. That false dilemma will ensure that we overcome neither. The lessons we are learning from humanity's response to COVID-19 are precisely the types of bold actions we will need to embrace to champion climate change. Our experience today is also validation of what the climate community has long believed; lasting change requires decisive action from – and coordination between – governments, citizens, public and private businesses, and investors. 
As mission-driven investors and partners with entrepreneurs, The Rise Fund takes its role in solving complex problems very seriously. Using the UN Sustainable Development Goals as a blueprint for achieving a better, more sustainable future, our strategy for investing in energy aligns with Goal #7: Ensure access to affordable, reliable, sustainable and modern energy. The Rise Fund is focused on partnering with companies and entrepreneurs across the globe that are reducing or mitigating the effects of greenhouse gas emissions on the climate in measurable and economically sustainable ways.
I spoke with our portfolio companies CLEAResult, Fourth Partner Energy, and C3.ai about how they're championing climate action, what's next for the future of clean energy and energy efficiency, how COVID-19 might change the climate conversation, and more. Here's what they had to say:  
Rick Needham: How did you first recognize the need to focus on energy solutions?
CLEAResult: 
CLEAResult was founded to help people make smart energy decisions. In the years since, we've grown to become the single largest provider of demand side energy solutions to utilities in North America. Energy efficiency and demand response programs help us meet the ever-increasing demand for energy in our homes and businesses, while avoiding the need to build expensive and carbon intensive power plants. By changing the way people use energy, CLEAResult helps utilities lower their load requirements and minimize environmental burdens on communities. 
Fourth Partner Energy: 
India is one of the fastest growing economies in the world with an exponentially increasing demand for energy. However, more than 72% of the electricity is still generated from fossil fuels, which come from coal-based power plants that are primary contributors to emissions and air pollution. The need to migrate to cleaner, non-polluting sources of energy has been a priority for the government for over a decade. 
At the same time, India's tropical location ensures it receives abundant radiation from the sun, nearly 365 days a year. This means solar power generation has the potential to replace polluting thermal sources in the country's energy mix. Moreover, nearly 300 million Indians even today have no access to electricity, especially in non-urban areas; uninterrupted power comes at a high cost. Fourth Partner Energy was formed 10 years ago to help address this need for clean, affordable, accessible, round-the-clock electricity.
C3.ai: 
It has been clear for well over a decade that optimizing energy use is a critical global challenge. Total global energy demand has grown by 15% over the 10-year period since C3.ai was founded, with the International Energy Agency projecting future growth from the present on the order of 1% per year. C3.ai was founded on the premise that a step function change in information technology – the cloud, IoT, big data, and AI – could be harnessed to transform the century old power grid to the Smart Grid and make a significant contribution to delivering a cleaner and more efficient power system. Since then we have expanded beyond energy; however, enabling sustainable use of energy has remained a core component of C3.ai's market activity.
Rick Needham: How do you measure impact and what impact has the company had to-date? Other than the environmental benefits of greater energy efficiency or more solar power, what are other positive impacts of your businesses?
CLEAResult: 
We measure our impact by compiling the energy savings across the electric and gas programs we implement for utilities in the US and Canada. These savings are then converted to environmental impacts, such as averted CO2 emissions, vehicles removed from the road, and carbon sequestered by forests. We consider both first year and lifetime impacts of the projects we implement for our clients and their end users. 
In addition to the obvious environment benefits, energy efficiency and demand response advancements drive material cost savings and financial benefits for countless homes and businesses.  In 2019 alone, CLEAResult programs generated over $714 million in customer savings on energy bills—including $27 million to low-income customers. When considering the lifetime impact of our work in 2019, these numbers jump to several billion dollars in customer savings.
Separately, COVID-19 has had a material impact on the energy efficiency industry and on how CLEAResult engages with utility customers. We quickly shifted from traditional program offerings that require direct customer contact to an innovative suite of virtual and direct ship offerings. For example, residential and small business customers who previously received in-person assessments can now take advantage of our new virtual assessment tool that allows customers to speak with an energy auditor from a smart phone. In addition, direct ship programs for smart thermostats, energy saving kits and LED lighting allow utility customers to take advantage of these cost-saving measures from the safety of their homes and business.
Fourth Partner Energy: 
In the initial years of operations, our team realized that convincing businesses to go green was easier when we quantified the benefits of switching to solar in terms of 'trees planted' and not just reduction in carbon emissions. Our solar offerings are 30-60% cheaper than grid tariffs, while every MW of our installed capacity is equivalent to planting nearly 63,000 trees.
In our endeavor to 'partner for sustainable change,' we have positively affected the lives of over 300,000 rural Indians in 23 states through our solar pumps, lanterns, streetlights, heaters, solar ATMs and rooftop installations. Our projects convert idle roof-space or land into environment-friendly energy assets that help businesses generate revenue and in some cases can provide more reliable power even compared to the existing grid which can experience frequent outages. In addition, our target of 2 GW installed capacity by 2023 will mean several hundreds of direct and indirect employment opportunities – especially for India's migrant workforce and daily wage labor.  
During the COVID-19 lockdown, our solar plants have electrified essential operations like hospitals, educational institutes and retail stores. Nearly 40% of our solar generating systems have fed back electricity to the grid via 'net-metering', thereby generating revenue to our clients. 
C3.ai: 
All of C3.ai's energy management solutions include features that monitor and track the reduction in energy use and emissions through its optimizations, so the impact is tracked operationally as a matter of course. We estimate that C3.ai solutions have cumulatively reduced energy use (or increased zero-carbon energy generation) by approximately 11 TWh and avoided emissions by 5.7 MT of CO2e since 2010. 
In addition, C3.ai solutions address a range of societal benefits in addition to energy-related benefits. These include worker and customer safety; improvement in health care outcomes (including specifically mitigating the impacts of COVID-19); reduction in waste, theft, and fraud; and improvements in government services.
Rick Needham: How do you think the COVID-19 situation may affect how people think about addressing climate change?
CLEAResult: 
While the timelines may be different, COVID-19 and climate change are two global crises that require individuals and organizations to take decisive steps to manage the overall health and economic viability of our communities. Like COVID-19, any meaningful effort to combat climate change will require governments, businesses and individuals to act at scale with aligned goals. The two crises share several commonalities—both will require us to trust our scientific models, move quickly and decisively to mitigate risks, align policies and enforcement across borders, and create a movement that inspires individuals to change their behaviors for the greater good of our communities—both global and local. 
Fourth Partner Energy: 
The partial lockdown in several countries due to COVID-19 across the globe has resulted in lower emissions, drastic reduction in air-pollution levels, thriving of wildlife and cooler atmospheric temperatures. It is almost a preview of what humanity could achieve if we are a little more committed to stringent climate action and energy transition to cleaner sources. 
We expect businesses in India emerging from the pandemic to evaluate affordable, alternate sources of power to drive down their operating costs. On an individual level, the tangible impact of small lifestyle changes like opting for public transport, switching to green mobility or solar electricity, energy efficiency and curbing GHG emissions will slowly become easier to understand.
C3.ai: 
COVID-19 vividly demonstrates how interconnected and sensitive to disruptions our global economy is, and also how important it is for preparation and response to have good data and clear predictive insights. In addition, the current crisis is having a profound impact on the energy markets (witness this week's first-ever negative WTI crude prices) and global and local supply chains. Some of these impacts are directly reducing emissions in the short term and may lead to sustained lower-emissions operations in the long term (e.g., more prevalent work-from-home policies, local supply chains). There are direct analogs of these lessons, albeit over a longer time scale, to the impacts of climate change and our response to climate change. We believe policy makers, business leaders, and other planners will learn from these lessons, which will result in a higher demand for predictive data analytics related to climate change.
Rick Needham: How is CLEAResult changing the "way people use energy?" What are some good examples of what the company does?
CLEAResult helps utility residential, commercial and industrial customers save energy, manage their energy bills, and reduce their impact on the environment. For homeowners, we leverage educational tips, home energy assessments and incentives to encourage more efficient use of energy. Small steps, such as installing LED lighting, weather stripping and smart thermostats, along with larger projects, such as upgrading appliances and HVAC systems, all combine to improve the overall efficiency and comfort of our homes.  
For businesses, both large and small, we offer a wide range of solutions to help customers manage their energy usage while improving their customers' and employees' comfort. From HVAC, lighting and process improvements to demand response programs, CLEAResult helps business owners manage their energy usage while reducing their carbon footprint. 
Rick Needham: How is Fourth Partner Energy helping communities in rural India gain access to cleaner, more affordable energy?
As reported by the World Bank, nearly 66% of India's population can be classified as rural; their access to basic necessities like healthcare, education, employment and electricity is more restricted than the rest of society. At Fourth Partner Energy, we help address the issue of affordable, reliable and clean electricity to rural India. 
Since inception we have impacted the lives of over 3,000,000 people in remote locations through our solutions like solar irrigation systems, water heaters, solar pumps, streetlights, solar ATMs and rooftop solutions. 
Our pan-India presence of over 1,800 installations across 23 Indian states has helped us create indirect employment opportunities for hundreds of contract labor at our project sites. The firm's solar generating systems have electrified over 400 government schools and colleges, healthcare centers and financial institutions in rural India. Our solutions help cut operating costs of these rural institutions by 30-50%, enabling utilization of these savings towards other basic essentials. 
Rick Needham: How does AI fit into helping to solve the climate challenge?
C3.ai was founded on the premise that a step function change in information technology – the cloud, IoT, big data, and, important, AI – could be harnessed to transform energy systems and make a significant contribution to delivering cleaner and more efficient energy. The combination of cheaper compute and storage, the proliferation of sensors and data, and the application of AI all enable this step change. Many of the problems related to climate change can be ameliorated with the help of these technologies – examples  include reducing energy and water usage; forecasting variable generation and demand; optimizing demand-response systems; predicting asset and property utilization, stresses, and failures; predicting and optimizing crop yields; optimizing inventory and supply chains; optimizing processes such as carbon capture and storage and biofuels production; and optimizing and automating R&D processes.
***
It's encouraging to see the great work of companies like Fourth Partner Energy, CLEAResult, and C3.ai. They are working on the front line to deliver cleaner, greener energy to people around the world, while reducing or mitigating the effects of greenhouse gas emissions on climate. They are also demonstrating that the fight for our climate rages on, even amidst the COVID-19 pandemic. 
It's clear that the energy sector plays a key role in future of our planet. While it is often considered the source of the climate problem, it's also clear to us that the energy sector must be part of the solution. We need energy to maintain our life and lifestyles, but the way energy is traditionally produced, distributed, and sold is continuing to do lasting damage to our planet. 
Fourth Partner Energy, CLEAResult, and C3.ai are countering this narrative with innovation and intervention. They are pushing forward cutting-edge energy products, showing us that energy consumption can grow, cleanly, if we pay attention to where our energy comes from and how we use it. On this Earth Day we should remember that taking care of our planet – like our response to COVID-19 – requires us to heed the warnings, understand the symptoms of the problem, identify our vulnerabilities early and take action before it's too late.