Rise Climate
TPG Rise Climate and Fidelity Management & Research Company lead investment in Electric Aerospace Company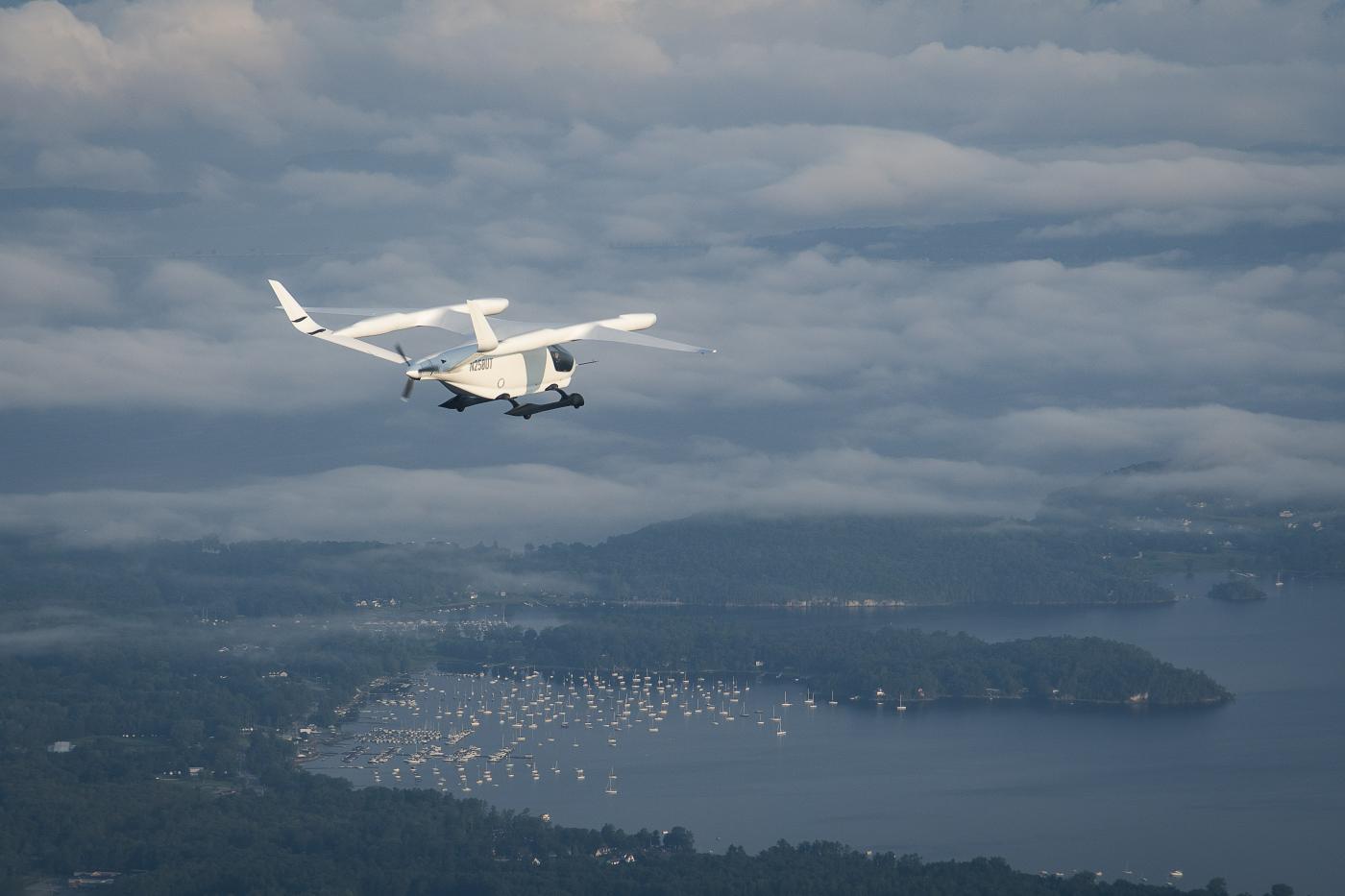 This funding will support the advancement of BETA's integrated electric aviation system, including its zero emissions aircraft, electric propulsion systems and its nationwide multimodal charging infrastructure
SOUTH BURLINGTON, VT -- April 20, 2022 -- BETA Technologies ("BETA" or "the Company"), developer of a fully integrated electric aviation system, has raised $375 million in a Series B financing. The round, which was meaningfully oversubscribed, was led by TPG Rise Climate, the dedicated climate investing strategy of TPG's global impact investing platform TPG Rise, and Fidelity Management & Research Company.
BETA is an electric aerospace company aiming to reshape transportation networks and support the electrification of transportation by manufacturing sustainable electric, zero emissions aircraft, building reliable electric propulsion systems, and implementing multimodal charging infrastructure.
At the center is the ALIA-250, BETA's eVTOL aircraft. Designed initially for the transportation of medical products and cargo, ALIA will carry 1,400 pounds of payload, or be configured for up to five people plus a pilot and requires less than an hour to charge after full missions. ALIA's vertical take-off and landing capabilities enable true quiet and clean, point-to-point logistics, which unlocks new mission profiles across all sectors from cargo, logistics and medical to passenger operations and increases access to more geographies, creating greater connections between communities.
The Company has also built and deployed multimodal, charging infrastructure across the United States to support electric vehicles of today and tomorrow, including various types of eVTOLs as well as ground EVs. BETA has initiated the installation of more than 65 charging locations which are online or in permitting, with a plan for hundreds more at strategic locations. The network extends from Burlington, VT to Melbourne, FL and Bentonville, AR-with plans to continue expansion across the U.S. BETA's charging network includes on- and off-airport stations, with new capabilities and providing a true end-to-end solution for customers' full fleet of ground and air vehicles.
"Zero emissions aviation is a critical part of turning the corner on climate change, and we are thrilled that our investors see our electric aviation system as a meaningful step towards this ambitious goal," said Kyle Clark, BETA's Founder and CEO. "This support allows us to complete the construction of our production facilities and accelerate our certification work to create a greener and more efficient future for all applications of aviation, starting with cargo and logistics and moving to passenger missions immediately thereafter."
"Decarbonizing transportation is one of the key focus areas for TPG Rise Climate, and we see BETA as a clear leader in the rapidly growing eVTOL space. BETA's design is highly practical for short and medium duration movement of cargo, creating significant efficiencies for logistics providers while avoiding emissions from existing regional aircraft and ground transportation," said Jonathan Garfinkel, Partner at TPG and senior member of the TPG Rise Climate investment team. "Led by a talented management team, we believe BETA is uniquely positioned to navigate the technological and regulatory environment and drive long-term growth and innovation in the aviation sector."
In recent months, BETA has achieved critical technical and airworthiness milestones. In March, two U.S. Air Force pilots flew ALIA in a handling qualities evaluation test, marking the first-ever manned flight of an electric aircraft through the AFWERX Agility Prime program. The flight was a key step in the U.S. Air Force's evaluation of BETA's aircraft for use in future missions. In preparation for the flight, the USAF pilots underwent extensive safety and preparedness training for the flight tests, completing intensive aircraft academics on BETA's ALIA, attending thorough ground school sessions to learn every system of the aircraft from the BETA subject matter experts who built them, and undergoing simulator training to understand how to manage unplanned events. This deep engagement is illustrative of BETA's overall real-world approach to safety. The company has assembled a team of world-class research, engineering, and test organizations, as well as Federal Aviation Administration (FAA) Designated Engineering and Airworthiness Representatives to build the very best team to engage with the FAA and to ensure compliance with regulations. With this steady progression, BETA continues to advance its program towards certification and delivery to customers.
BETA has committed orders and contracts with leading operators across military, medical, cargo and passenger. UPS placed a firm order for 10 aircraft with the option to order an additional 140, and reserved the right to purchase BETA's charging stations for an end-to-end solution that will enhance its air service for small and mid-sized markets and create a foundational solution to reduce fleet emissions. BETA's first customer, United Therapeutics, will rely on the Company's aircraft to transport its manufactured and repaired organs for human transplantation, and will utilize its charging stations to support those missions. The U.S. Air Force partners with BETA through its Agility Prime Program to accelerate development and adoption of electric aircraft. In addition to the first crewed flight milestone, ALIA was the first eVTOL to receive airworthiness approval for a manned electric aircraft through the program. The U.S. Army signed a contract with BETA earlier this year to support the advancement of its operational flight test program. Blade Urban Air Mobility ordered five quiet ALIA aircraft with an option for up to 20, with plans to use the aircraft for a diverse set of mission profiles, including airport transfers and longer distance commuter routes.
The Company will use the funds secured to accelerate growth and operations as it progresses toward FAA certification of ALIA. Specifically, to continue to refine its electric propulsion systems and controls, advance testing of its two ALIA prototypes, and expand its charging infrastructure. Focusing on these key pillars of the business plan brings BETA closer to its goal of connecting communities through sustainable transportation.
Goldman Sachs & Co. LLC acted as exclusive placement agent for BETA in connection with this capital raise.
About BETA
BETA Technologies is creating an electric transportation system that's quiet, safe, reliable and sustainable. A relentlessly focused team is building an extensive charging infrastructure and ALIA, the world's most technologically advanced electric vertical aircraft (EVA). BETA's platform and products are strikingly simple. Prioritization of safety and a pragmatic approach to certification drive elegant redundancy, appropriate diversity of implementation and simplicity of control. ALIA's fixed-pitch propellers and centrally located batteries make it an inherently stable aircraft that is safe to fly and easy to maneuver.
Every BETA team member is given the opportunity to become flight-certified at no cost, enabling firsthand understanding of aircraft engineering. BETA's team comes from leading firms and organizations, including the Federal Aviation Administration, the armed services, and leading aerospace and EV OEMs.