Social Impact
Title
A Q&A with the CEO of CD Finance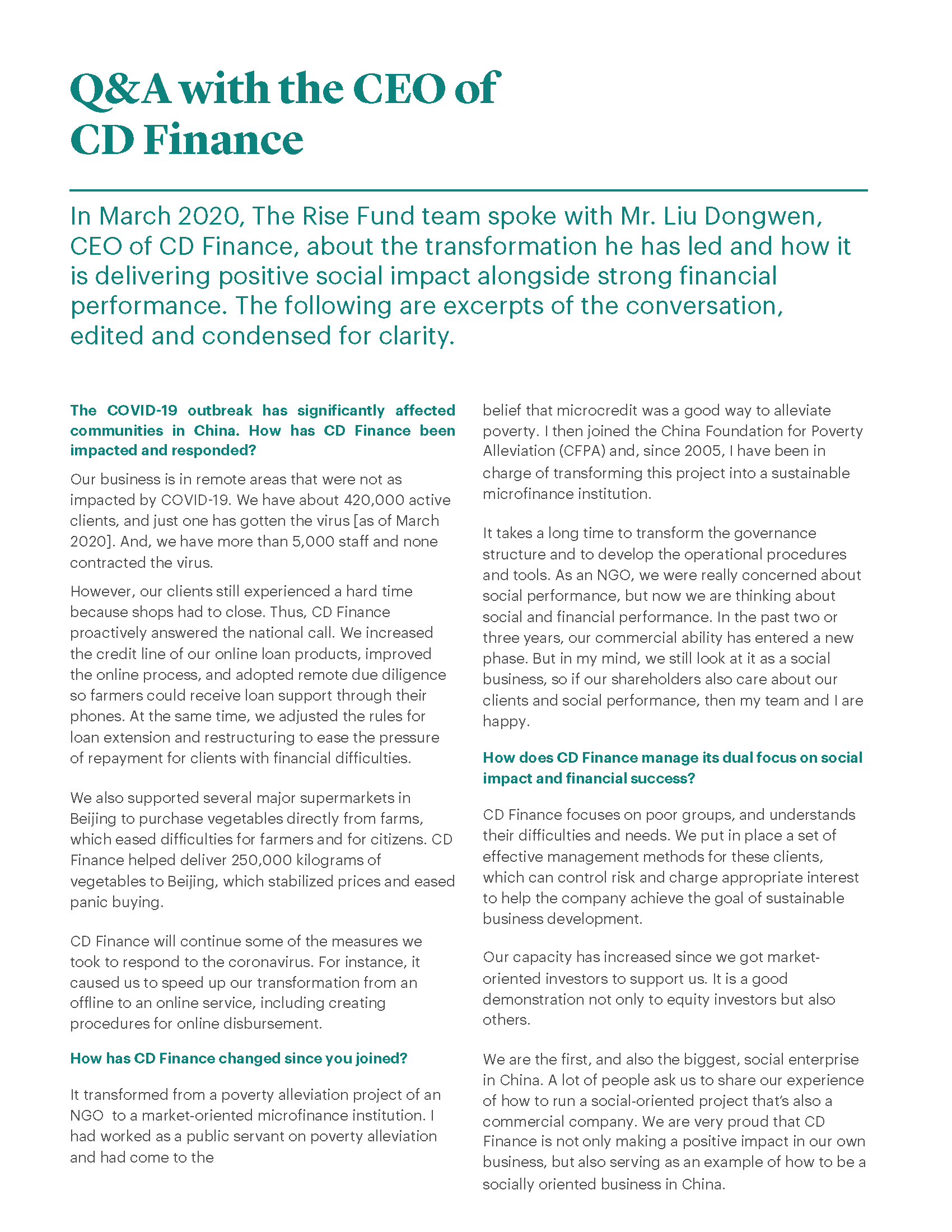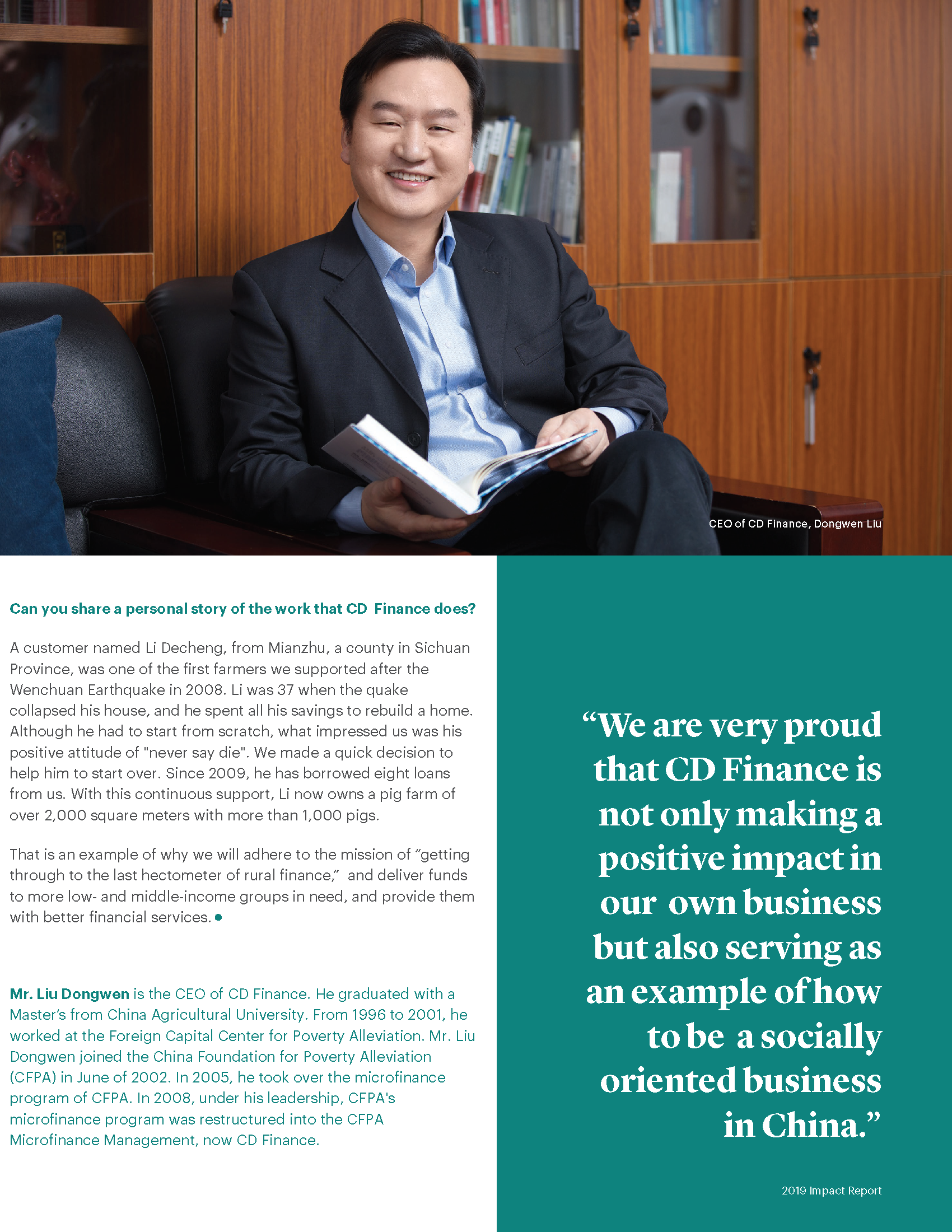 Q&A with the CEO of CD Finance
In March 2020, The Rise Fund team spoke with Mr. Liu Dongwen, CEO of CD Finance, about the transformation he has led and how it is delivering positive social impact alongside strong financial performance. The following are excerpts of the conversation, edited and condensed for clarity.
The COVID-19 outbreak has significantly affected communities in China. How has CD Finance been impacted and responded?
Our business is in remote areas that were not as impacted by COVID-19. We have about 420,000 active clients, and just one has gotten the virus [as of March 2020]. And, we have more than 5,000 staff and none contracted the virus.
However, our clients still experienced a hard time because shops had to close. Thus, CD Finance proactively answered the national call. We increased the credit line of our online loan products, improved the online process, and adopted remote due diligence so farmers could receive loan support through their phones. At the same time, we adjusted the rules for loan extension and restructuring to ease the pressure of repayment for clients with financial difficulties.
We also supported several major supermarkets in Beijing to purchase vegetables directly from farms, which eased difficulties for farmers and for citizens. CD Finance helped deliver 250,000 kilograms of vegetables to Beijing, which stabilized prices and eased panic buying.
CD Finance will continue some of the measures we took to respond to the coronavirus. For instance, it caused us to speed up our transformation from an offline to an online service, including creating procedures for online disbursement.
How has CD Finance changed since you joined?
It transformed from a poverty alleviation project of an NGO to a market-oriented microfinance institution. I had worked as a public servant on poverty alleviation and had come to the belief that microcredit was a good way to alleviate poverty. I then joined the China Foundation for Poverty Alleviation (CFPA) and, since 2005, I have been in charge of transforming this project into a sustainable microfinance institution.
It takes a long time to transform the governance structure and to develop the operational procedures and tools. As an NGO, we were really concerned about social performance, but now we are thinking about social and financial performance. In the past two or three years, our commercial ability has entered a new phase. But in my mind, we still look at it as a social business, so if our shareholders also care about our clients and social performance, then my team and I are happy.
How does CD Finance manage its dual focus on social impact and financial success?
CD Finance focuses on poor groups, and understands their difficulties and needs. We put in place a set of effective management methods for these clients, which can control risk and charge appropriate interest to help the company achieve the goal of sustainable business development.
Our capacity has increased since we got market-oriented investors to support us. It is a good demonstration not only to equity investors but also others. We are the first, and also the biggest, social enterprise in China. A lot of people ask us to share our experience of how to run a social-oriented project that's also a commercial company.
We are very proud that CD Finance is not only making a positive impact in our own business, but also serving as an example of how to be a socially oriented business in China.
Can you share a personal story of the work that CD Finance does?
A customer named Li Decheng, from Mianzhu, a county in Sichuan Province, was one of the first farmers we supported after the Wenchuan Earthquake in 2008. Li was 37 when the quake collapsed his house, and he spent all his savings to rebuild a home. Although he had to start from scratch, what impressed us as his positive attitude of "never say die". We made a quick decision to help him to start over. Since 2009, he has borrowed eight loans from us. With this continuous support, Li now owns a pig farm of over 2,000 square meters with more than 1,000 pigs.
That is an example of why we will adhere to the mission of "getting through to the last hectometer of rural finance," and deliver funds to more low- and middle-income groups in need, and provide them with better financial services.
Mr. Liu Dongwen is the CEO of CD Finance. He graduated with a Master's from China Agricultural University. From 1996 to 2001, he worked at the Foreign Capital Center for Poverty Alleviation. Mr. Liu Dongwen joined the China Foundation for Poverty Alleviation (CFPA) in June of 2002. In 2005, he took over the microfinance program of CFPA. In 2008, under his leadership, CFPA's microfinance program was restructured into the CFPA Microfinance Management, now CD Finance.