Social Impact
Title
A Portfolio Working Towards Achieving the UN's Sustainable Development Goals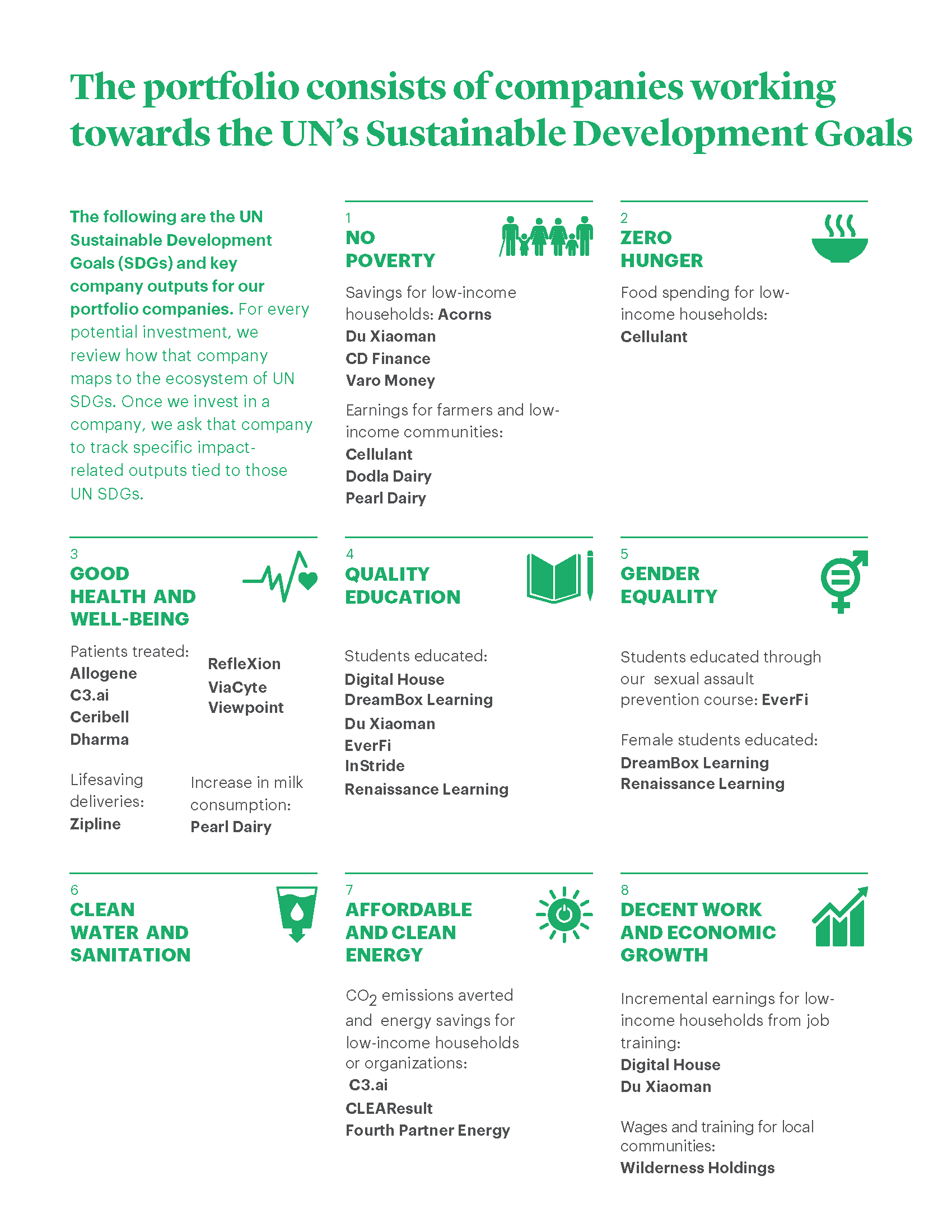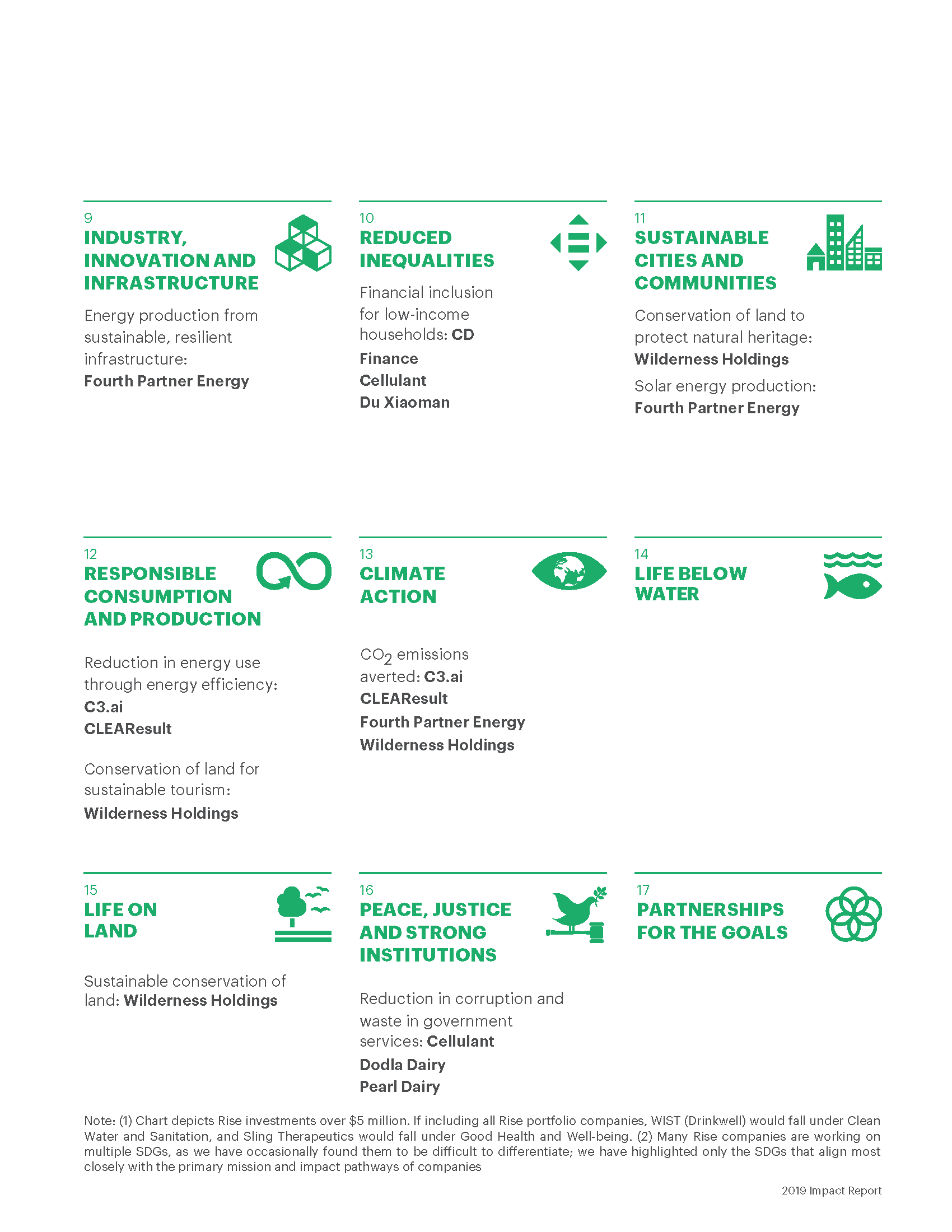 The portfolio consists of companies working towards the UN's Sustainable Development Goals
The following are the UN Sustainable Development Goals (SDGs) and key company outputs for our portfolio companies. For every potential investment, we review how that company maps to the ecosystem of UN SDGs. Once we invest in a company, we ask that company to track specific impact related outputs tied to those UN SDGs.
1. NO POVERTY
Savings for low-income households:
Acorns

Du Xiaoman

CD Finance

Varo Money
Earnings for farmers and low-income communities:
Cellulant

Dodla Dairy

Pearl Dairy
2. ZERO HUNGER
Food spending for low- income households:
3. GOOD HEALTH AND WELL-BEING
Patients treated:
Allogene

C3.ai

Ceribell

Dharma

RefleXion

ViaCyte

Viewpoint
Lifesaving deliveries:
Increase in milk consumption:
4. QUALITY EDUCATION
Students educated:
Digital House

DreamBox Learning

Du Xiaoman

EverFi

InStride

Renaissance Learning
5. GENDER EQUALITY
Students educated through our sexual assault prevention course:
Female students educated:
DreamBox Learning

Renaissance Learning
6. CLEAN WATER AND SANITATION
7. AFFORDABLE AND CLEAN ENERGY
CO2 emissions averted and energy savings for low-income households or organizations:
C3.ai

CLEAResult

Fourth Partner Energy
8. DECENT WORK AND ECONOMIC GROWTH
Incremental earnings for low-income households from job training:
Wages and training for local communities:
9. INDUSTRY, INNOVATION AND INFRASTRUCTURE
Energy production from sustainable, resilient infrastructure:
10. REDUCED INEQUALITIES
Financial inclusion for low-income households:
CD Finance

Cellulant

Du Xiaoman
11. SUSTAINABLE CITIES AND COMMUNITIES
Conservation of land to protect natural heritage:
Solar energy production:
12. RESPONSIBLE CONSUMPTION AND PRODUCTION
Reduction in energy use through energy efficiency:
Conservation of land for sustainable tourism:
13. CLIMATE ACTION
CO2 emissions averted:
C3.ai

CLEAResult

Fourth Partner Energy

Wilderness Holdings
14. LIFE BELOW WATER
15. LIFE ON LAND
Sustainable conservation of land:
16. PEACE, JUSTICE AND STRONG INSTITUTIONS
Reduction in corruption and waste in government services:
Cellulant

Dodla Dairy

Pearl Dairy
17. PARTNERSHIPS FOR THE GOALS
Note: (1) Chart depicts Rise investments over $5 million. If including all Rise portfolio companies, WIST (Drinkwell) would fall under Clean Water and Sanitation, and Sling Therapeutics would fall under Good Health and Well-being. (2) Many Rise companies are working on multiple SDGs, as we have occasionally found them to be difficult to differentiate; we have highlighted only the SDGs that align most closely with the primary mission and impact pathways of companies.